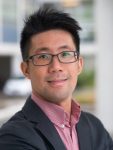 Dear Fellows,
Welcome to St. John's College! 
For those of you setting foot in SJC for the first time, you are joining a proud tradition of academic excellence and inter-cultural understanding that was the hallmark of our founders, the alumni of St. John's University in Shanghai. Considered one of the best institutions of higher learning in China until it closed in 1952, its reputation for bringing the best of Eastern and Western learning together is reflected in the tremendous contributions and achievements of its alumni, known as the Johanneans. Some of the leading scholars, businessmen, educators, and public servants of our time have been Johanneans and here in Vancouver, the local chapter of the St. John's University Alumni Association continues to take a great interest in our College. I hope that every one of you will have an opportunity to interact with our Johannean founders during your stay. 
Last year, SJC was gifted a Chinese motto by our Johannean Founders: 薈東西精英   臻世界大同, which translates to "Gathering the Talents of East and West, for the cultivation of World Peace and Unity." This year marks the nineteenth year since SJC admitted its first residents. Since then, we have been a "home away from home" for graduate students, postdoctoral fellows, and visiting scholars from over forty countries, with most residents coming from outside Canada. This diversity has long been the greatest strength of our community. Residents take an active role in sharing their experiences and expertise with each other in formal and informal ways. For this reason, we place great value on our daily meals together – so much so that we have adopted as our English motto "The World Around Our Table." This year, we will also be organizing a series of events to address two topics of global importance: biodiversity and ecojustice, and the displacement of refugees worldwide. I look forward to seeing many of you at these and other events and hearing your ideas. I will also have regular office hours during the school year and invite you to drop by and share what's on your mind. 
As Acting Principal, I am privileged to work with a top-notch staff to ensure that this is a nurturing and welcoming place for all residents and guests. For new residents, I look forward to meeting you at our Welcome Session on 10:30am on Friday, September 2, where our staff will share important information about how to ensure your safety and well-being at UBC. This is one of many activities planned during orientation, including our annual Welcome BBQ and Founders' Dinner.
My wish is that your time at SJC is truly transformative – that you will depart from our community with more knowledge, experience, and wisdom than when you first came, and that you will carry on the Johannean spirit of "Light and Truth" to your next destination. I hope that the friends you meet here will last a lifetime, and that you will look back on your time here as some of the best years of your life. 
With best wishes,
Dr. Chris Lee
Acting Principal, St John's College
Associate Professor of English
---
Introductory Letter from Dr. Chris Lee, July 2016
St. John's College welcomes Dr. Chris Lee as our Acting Principal while Dr. Henry Yu is on sabbatical from July 1, 2016 to July 1, 2017.
Dr. Lee has been a member of the SJC community for over ten years and has served as Associate Principal since 2010.  Chris is an Associate Professor in the English Department, and Director of the Asian Canadian and Asian Migration Studies Program at UBC.
___________________________________________________
Dear Residents, Alumni, and Friends,
I am writing to introduce myself to the SJC community as the Acting Principal this academic year. Henry Yu is beginning a year-long sabbatical this month, but we will still see him and his family living at the College in the next few months. On behalf of everyone at SJC, best wishes to Henry as he takes a well-deserved break for research and travel!
I've met many of you already, but a quick introduction: unlike most people at SJC, I grew up in the the Vancouver area, but my extended family is scattered in Hong Kong, Singapore, Taipei, Guangzhou, and across North America. I attended UBC as an undergraduate and returned about ten years ago to teach in the English department. Since then, I've had the privilege of being part of this community in various capacities. When my wife Michelle (herself an SJC alumna) and I lived at the College last year, we loved the energy and creativity here – and also experienced first hand the challenges of living together in community! I am delighted to work with our fantastic administration team this year to make sure that SJC is truly a "home away from home" for everyone who lives and stays here.
Summer is traditionally a quiet time at SJC, a chance to relax, slow down, and enjoy one of the most beautiful sunsets anywhere. Over the next two months, we will be planning for the coming year as we welcome our newest residents and organize activities designed to (in the words of our mission statement) "inspire a global vision and foster a spirit of community." We will also start looking ahead to 2017-18, when SJC will be celebrating its twentieth anniversary! 
None of this is possible without the active support of our residents and alumni and I look forward to working with you all this coming year. Please do not hesitate to get in touch if you have ideas or concerns.
Best wishes for a safe and happy summer!
-Chris