St. John's College

Dining Hall Map
Campus directions to

2111 Lower Mall
---
---
2018/19 Schedule
---
Please note that we use the service Eventbrite to sell tickets which is located outside Canada. If you do not wish to use this service, you may come to the Administration Office of St. John's College, 2111 Lower Mall, and pay for your ticket in person during office hours:  Monday – Friday, 9 am to 4 pm. 
---
Wednesday, February 27
11:30 am – 1:00 pm
Ms. Barbara Meens Thistle, VP of Human Resources
Menu: Italian Buffet
Tomato Bocconcini Caprese
Caesar Salad
Baked Beef Lasagne
Tortellini Florentine w/Basil Cream
Butternut Squash Agnolotti w/Tomato Sauce
Tiramisu
Fresh Fruit Platter
Coffee & Tea

---
Wednesday, March 27
11:30 am – 1:00 pm
Ms. Eilis Courtney, Senior Advisor, Ceremonies & Protocol
Menu: TBA
---
Wednesday, April 24
11:30 am – 1:00 pm
TBA
Menu: TBA


---
Wednesday, May 29
11:30 am – 1:00 pm
TBA
Menu: TBA
---
Wednesday, January 30
11:30 am – 1:00 pm
Dr. Henry Yu, Principal St. John's College, Associate Professor, History
Staff and faculty: working together
Golden Fortune Buffet
Mushroom & Corn Eggdrop Soup
Grilled Chicken Teriyaki
Golden Fish Fritter w/Sweet & Sour Sauce
Crispy Golden Spring Roll w/Plum Sauce
Vegetable Stir-fry
Steamed Jasmine Rice
Fresh Fruit Platter
Coffee & Tea
Wednesday, November 28 (SOLD OUT)
11:30 am – 1:00 pm
Ms. Carole Jolly, Director, Community Development
Menu: "Fall Comfort" buffet
Wednesday, October 31
11:30 am – 1:00 pm
Mr. Don Thompson, Chief Information Security Officer
Menu: "Hot as Hell" buffet
Wednesday, September 26
11:30 am – 1:00 pm
Professor Santa Ono President and Vice-Chancellor
Menu: "A Touch of Singapore" buffet
Hot Lunch Speaker List:
---
SIGN UP to the
Hot Lunch eMail list.
---
UBC staff member?
You're invited to "Hot Lunch"!!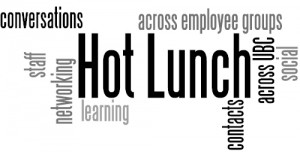 Cross-campus Staff Networking Initiative
We know that many of us here at UBC recognize the challenge in creating meaningful conversations and connections between staff from different units, and that our own personal networks play a key role in sustaining and supporting us in our UBC roles.What if we could share those networks with each other in a way that could foster better linkages and community among colleagues from across the institution, and across bargaining units and staff associations as well? If we could create innovative ways to build relationships, and nurture those networks, could we foster a more inclusive and productive working environment at UBC?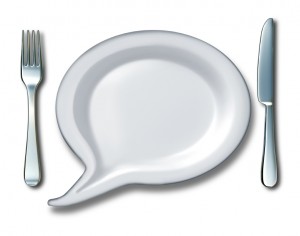 Our thought: absolutely yes, and so "Hot Lunch" was born. Let's meet over lunch with a group of our colleagues from across the University, and share thoughts and conversations about how we might work toward the goal of establishing richer and more meaningful networks across the institution.
Stacy Barber
Office Manager, St. John's College
Eilis Courtney
Senior Advisor, Ceremonies and Protocol
Shirley Nakata
Ombudsperson for Students
Andrew Parr
Managing Director, Student Housing & Hospitality Services
Grace Wong
Senior Advisor International, Office of the Provost and VP Academic
Henry Yu
Principal, St. John's College and Associate Professor, Department of History
Ex-Officio
Sandra Shepard
Assistant Principal, St. John's College, retired

---
Hot Lunch is a cross-campus staff networking initiative hosted by St. John's College and co-sponsored by the office of each of the Vice-Presidents with the special support of Human Resources.
---