Book Launch – Lives of the Family
November 25, 2013 @ 4:00 pm

-

6:00 pm
Public Book Launch Event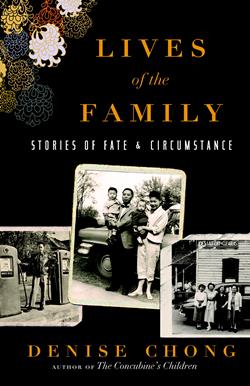 "LIVES OF THE FAMILY"
Stories of Fate & Circumstance
By Denise Chong
Published by Random House Canada on October 12, 2013;
222 pages; $28
---
From Denise Chong, the internationally bestselling author of The Concubine's Children, come the remarkable stories of people caught between the chaos of war and the promise of a new land in LIVES OF THE FAMILY: Stories of Fate & Circumstance.
In her intimate, haunting and inspiring LIVES OF THE FAMILY, Chong charts the emotional terrain of the universal immigrant experience in coming to a new land.
These are the stories of Chinese immigrant families who, rather than settling in the established big city Chinatowns of Vancouver or Toronto, struck out on their own in small town Canada. There, they often ran the local Chinese laundry or cafe, and typically, along with their "bachelor" staff, were a town's only Chinese. The end of the Anti-Japanese War in China, the repeal of a Canadian law banning Chinese immigration and the Communist victory in China brought wives, sons and daughters among this country's newest immigrants, to reunite with husbands and fathers they hardly knew. Some came under false identities, some as "cash on delivery" brides. But for all the isolation of these smaller places, they rewarded an immigrant's ambition and afforded the kindness of neighbours.
Of the experience of writing her book, which is set mainly in Ottawa and small towns nearby, Chong says: "As I expected, life could be upended by the unpredictable, both joyful and tragic: a boy whose grandmother sold his baby sister for a sack of rice finds out decades later, that like him, she is now living in Canada; a driverless, rolling car crosses a sidewalk and crushes the leg of a man, and soon, his widow is left to run the cafe"
"What surprised were memories of longing that surfaced: for the caress of a father's hand on a daughter's head; for any chance to wear high-heeled shoes brought from Hong Kong—regretfully, ill-suited to a young bride's new rural life."
Moving and powerful, LIVES OF THE FAMILY gives voice to the courage and heartbreak of ordinary families who lived in extraordinary times, and reveals the immigrant's tenacity in adapting to a new world.
Denise Chong is the author of The Concubine's Children, a family memoir; The Girl in the Picture, a story of the napalm girl from the Vietnam War; and Egg on Mao, a portrayal of human rights in China. She was born in Vancouver, grew up in Prince George, and now lives with her family in Ottawa.
For more information on the families and the stories in the book, visit
Space is limited. Register at:
http://www.eventbrite.ca/event/9115283057