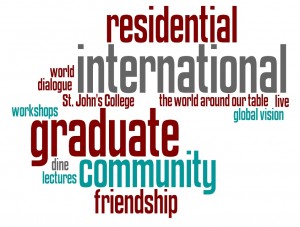 We provide a "home away from home" for graduate students, postdoctoral fellows, and visiting scholars from all over the globe. Approximately 80% of our community come from 45 different countries.  We bring our community the world around our table.  Find out what SJC can offer you.
Looking for place to stay during your visit to UBC?  Book one of our well-appointed guest rooms that are available to academic visitors and enjoy the warmth of our community and our first rate meal plan included with your stay.
How about a venue for your next meeting, conference, or lecture?   We have those too!  Find out more about our meeting rooms and catering services.
We have many events throughout the academic year that the UBC community and general public are welcome to attend.  Check out our Events Calendar regularly and join us for dinner before or after the event.